Personal
Commissions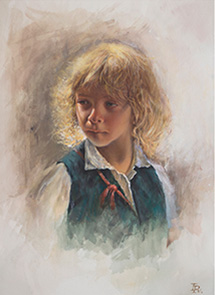 "Alex is up to something"
water color on paper
22 x 16 in
Corporate
Commissions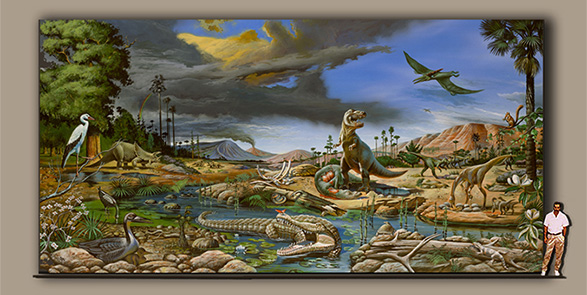 "Era of Dinosuars"
MURAL Arcrylic on wall
20 x 40 feet
OriginalCommissionedPaintings
As an artist I especially enjoy commissioned paintings. Every new commission is a a challenging and rewarding adventure. I am happiest when I'm painting. It is my life. It is in my blood.
My versitility allows me to accept a wide range of commissions. Everything from intimate private portraits to large corporate and public murals.
---
CommissioningPaintings
The first step is to contact me. We can either schedule a meeting at your choice of location or, if you prefer, we can discuss your commission through phone calls or emails.
Usually a commission session will last between one and two hours, depending on the complexity of your painting. Before our session I would need to know what subject you wish painted. Subjects can range from landscapes, seascapes, figurative, equine, etc. Additionally, the style of painting you desire, the color or predominant palette may be discussed as well. And finally the size of painting and final placement.
Preliminary studies are prepared for the client's review before proceeding to the final stage. These studies give the client a good idea of the future paintings composition and color of the final painting. You can purchase the preliminary studies at the cost of 10% of the price of the final painting.
Every painting is on fine quality canvas. Murals are usually painted on site. I use only the highest quality materials to ensure a painting that will last for centuries.
If shipping is required the final painting may be shipped rolled in a tube or, possibly shipped a stretched canvas in a built up custom box. Shipping and handling fees will be applied.
---
CommissionedPricing
To request a current pricing information contact Igor at XXX.XXX.XXXX or send an email to iraikhline@aol.com
Commission prices are based upon the size of the painting and complexity of the genre. Canvas sizes may vary somewhat to adjust to compositions.
Upon request, Igor Raikhline will work with the client to select a custom frame that is appropriate to the painting and the placement of the painting.
Framing, shipping costs and travel expenses are in addition to the price of the painting.
---
CommissionedDeposits
A payment of 50% of the commission price is required at the time of the first sketch showing.
This payment is non-refundable in order to compensate for the artist's time and progression of the painting. The remaining balance is paid upon completion of the painting